WSJT-X Ubuntu configuration is pretty simple. If you are familiar with WSJT-X but you ran it on other OS then all of this is probably obvious to you. Most settings menus are the same, options layout is the same. What differs is audio port setup and RIG control configuration which is shown below based on Icom IC-7300.
Just in case you didn't install WSJT-X yet you can read how to do so here.
Configuration is done in a few simple steps.
First start WSJT-X and go to configuration section: File -> Settings … -> General or just press F2. This few animated gifs show what I changed.
General tab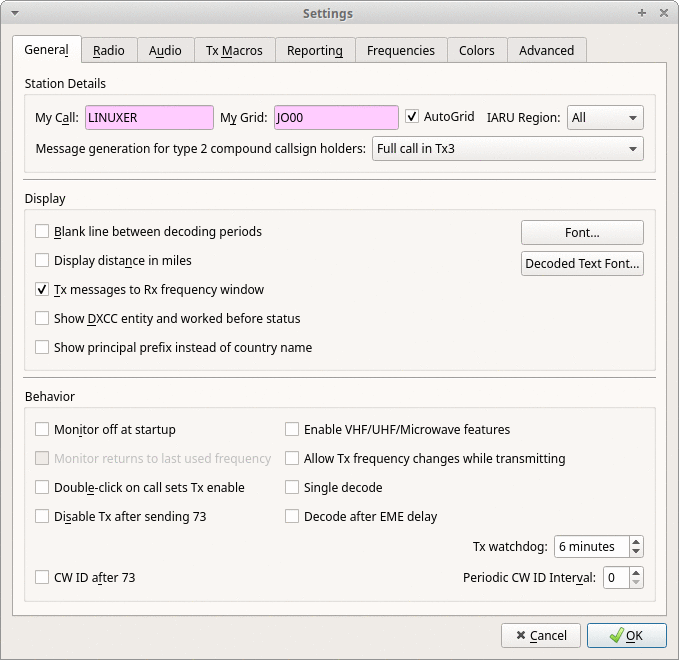 My Call
My Grid
AutoGrid – disabled as I pick my IARU region manually
IARU Region – Region 1 in my case
Blank line between decoding periods – useful as you can clearly see transmit/receive windows separated by line – for FT8 it will be every 15 seconds
Show DXCC entity and worked before status – WSJT-X keeps ADI log and will tell you if the station you see you worked before or not if country is needed
Double-click on call sets TX enable – when you see CQ on the transmission list you double-click the call and WSJT-X will attempt to call the station immediately
Disable TX after sending 73 – useful especially when you are just learning how to operate etc.
Radio tab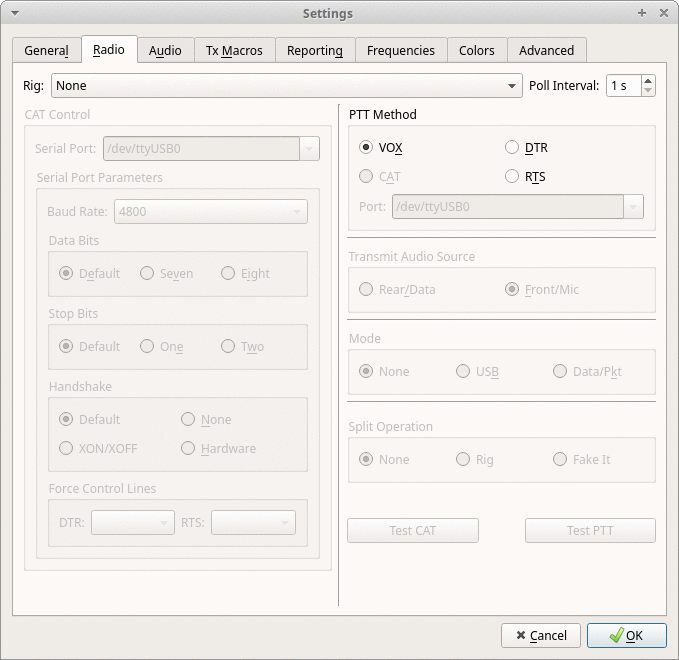 Rig – Icom IC-7300 in my case
Serial Port – most likely /dev/ttyUSB0 – this can be checked in dmesg see this article
Serial port parameters

Baud Rate: 19200
Data Bits: Eight
Stop Bit: One
Handshake: None

PTT Method – CAT
Mode – Data/Pkt – this will put radio in USB-D (data) mode
Split Operation – none
You can click Test PTT to see if radio will go into TX mode. If everything is configured correctly TRX will go into transmit mode.
Audio tab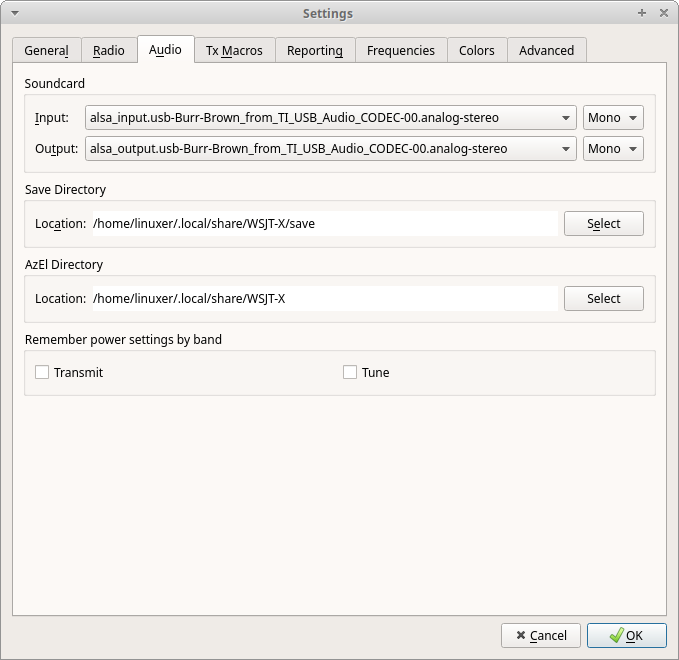 Here I didn't change anything. Defaults are correct but I show it just for reference. IC-7300 is visible as USB sound card and ALSA shows it as "Burr Brown from TI USB Audio CODEC".
Reporting tab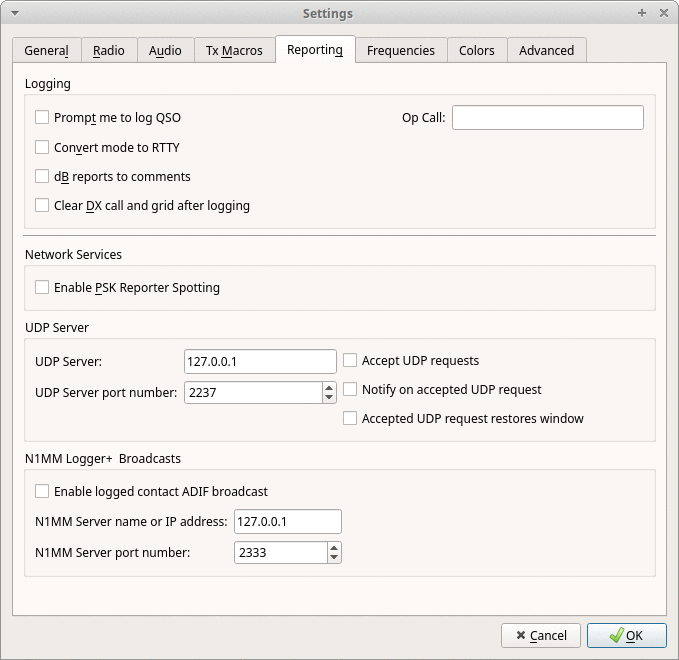 Prompt me to log QSO – this will show you a pop up each time you finish QSO to confirm what will be logged
dB reports to comments – dB information will be added to each log entry
Enable PSK Reporter Spotting – WSJT-X will report your activity and what you receive to pskreporter.info website – very interesting stuff – live visualization of your data on a world map where you are being heard and what you receive
Accept UDP requests – this allows for external programs (logging etc) to connect and interact with WSJT-X
Save the configuration and if everything went well you should quickly see WSJT-X decoding signals. You might want to tune input/output levels of IC-7300 sound interface to get best results. Audio volume control can be done with pavucontrol. This is an example of working WSJT-X in FT8 mode on 40m band.
Waterfall

Main window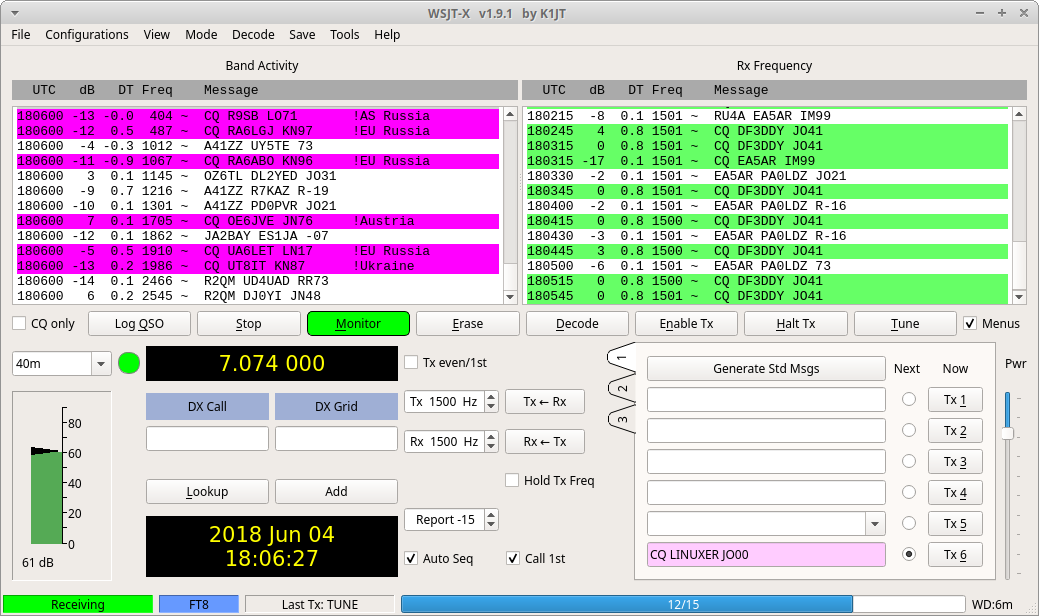 As you probably know digital modes are very sensitive to time synchronization issues. Thankfully Ubuntu deals with this task very well out of the box. Most likely you don't have to do anything with this. In any case you can have a read on time synchronization topic here: Time Synchronization on Ubuntu 18.04.
Logs
Last but not least WSJT-X keeps log its file structure in ~/.local/share/WSJT-X/:
.local/share/WSJT-X/
├── ALL.TXT
├── ALL_WSPR.TXT
├── FoxQSO.txt
├── hashtable.txt
├── jt9_wisdom.dat
├── refspec.dat
├── save
│   ├── 180604_1705.wav
│   ├── 180604_171315.wav
│   ├── 180604_180645.wav
│   ├── 180604_1808.wav
│   ├── 180604_181100.wav
│   ├── 180610_070900.wav
│   ├── 180623_182100.wav
│   └── samples
├── timer.out
├── wsjtx.log
├── wsjtx_log.adi
├── wsjtx_wisdom.dat
├── WSPR_history.txt
├── wspr_timer.out
└── wspr_wisdom.dat

WSJT-X keeps QSO log file in ADI format in ~/.local/share/WSJT-X/wsjtx_log.adi file. If you use sites like eQSL.cc you can upload this file directly to outbox to confirm your QSOs.
If you have any questions regarding this don't hesistate to contact me.